IQ4 Conveyorized Metal Detector System
The IQ4 conveyor systems offer the latest 7" color touchscreen with the engaging new user interface are designed to make light work of setting, running and maintaining the IQ4 range, minimalizing user errors. The system takes advantage of nearly 50 years of LOMA's innovation and experience in conveyorized solutions for contaminant metal detection in the food industry and offers optimized mechanics to deliver performance improvements using variable-frequency detection (31 to 882 KHz). LOMA's conveyor systems comply with strict international standards such as IFS, BRC and FSMA; and can also be supplied with the highest level of compliance to meet strict Retail Codes of Practice (COP).
7" Touchscreen with a new easy to use interface
Standard across all of the IQ4 range, the big 7" touchscreen is 33% larger than previous generation metal detectors and so offers easier usability.

Faster, Better Auto-Learn
With significant improvements in signal processing, the new Auto-Learn rapidly delivers excellent detection sensitivities out of the box and provides more line up-time than ever before.
Robust "Beyond" IP69K rating
An improved lip, screen, and new blue sealing arrangement, combined with ultra-harsh mechanics proven from the IQ3+ range, make this one of the toughest and factory friendly metal detectors on the market.
Conveyors with Automatic reject stations
The IQ4 Rectangular head is available with a conveyor using automatic reject stations. These systems are designed to maintain a high throughput, increase productivity and are typically good for fast applications and pack speeds. Multiple reject system types are available, and the correct choice entirely depends on the application.
Conveyor's with automatic reject stations can be supplied with varying levels of compliance depending on the customer requirement. These are broken down into two levels of compliance; Retail and Full Retail which are made up of different features depending on the COP you comply with.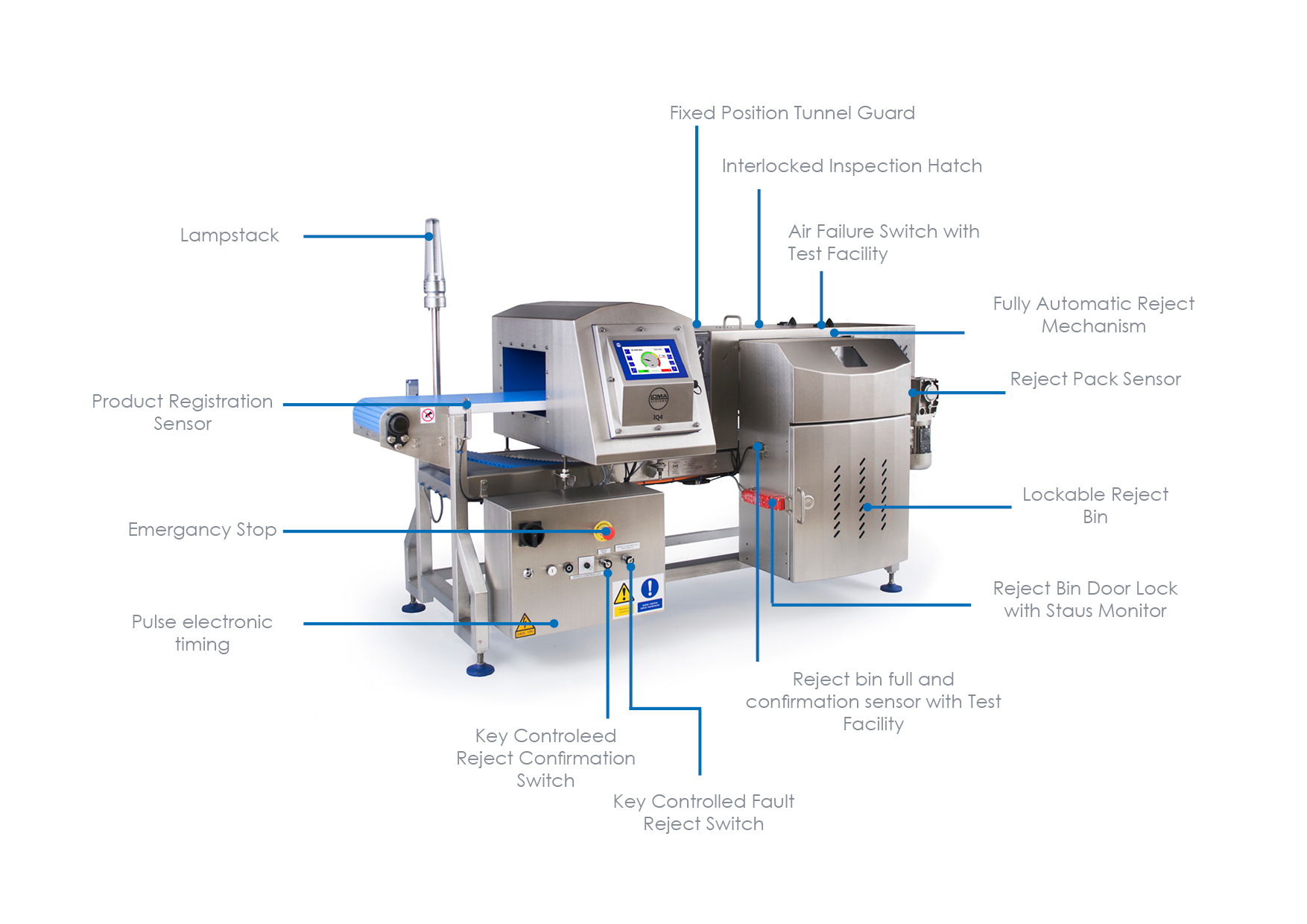 LOMA's reject types for different applications:
Air Blast – This can consist of either a single or dual nozzle system which is designed to be used with products that are wrapped and weigh up to 0.8kg
Pusher – The pusher is designed to be either side or overhead the conveyor for the wrapped product in rigid packaging and is also available with heavy duty construction. If polybagged product is used a brush strip is needed under the pusher blade to reduce trapping.
Carriage Retract – Ideal for a continuous loose product, separate products in parallel lanes across the belt, polybags, and sachets.
Diverter / Plough – Typically used on more delicate or higher value products using a sweeping action to reject contaminant products.
Power Decliner – Situated at the end of the out the outfeed conveyor, products exit via the decliner onto another conveyor to then be rejected, this is mostly used with checkweighers.
Stop on Detect conveyors
Stop on Detect (or belt stop alarm) conveyors are the simplest reject conveyor available. They are normally associated with large bulk or awkward shaped products that are placed onto the production line by hand and typically consist of head sizes of around 550mm x 300mm. Any product that is contaminated is removed from the line once the alarm goes off and the belt has stopped.
A Stop on Detect conveyor tends to run at lower speeds (PPM) and has a maximum pack rate of 60ppm. For operations that have limited space, this is an ideal option as it offers the shortest conveyor lengths.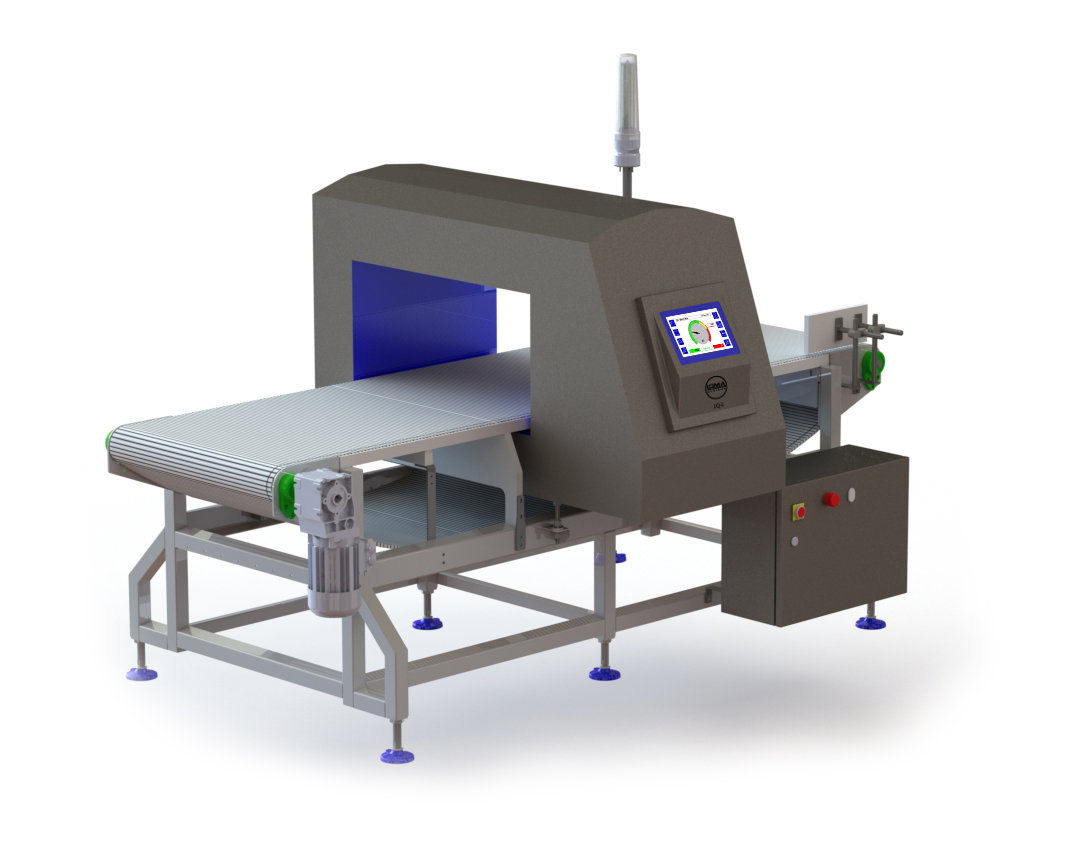 These systems can also be used for smaller products (by using smaller aperture heads) that do not require auto rejection or on food production lines that are not operating to a retailer code of practice.
Bespoke conveyor systems
LOMA produce a wide range of metal detector conveyor systems for a host of bespoke food and packaging applications. These systems consist of IQ4 metal detection technology but offer bespoke elements that are specific to certain applications and requirements. Some of LOMA's recent systems include; finger print login control, extra large reject bins for oversized products, incline and decline conveyors, very high line height, dual lane systems and much more.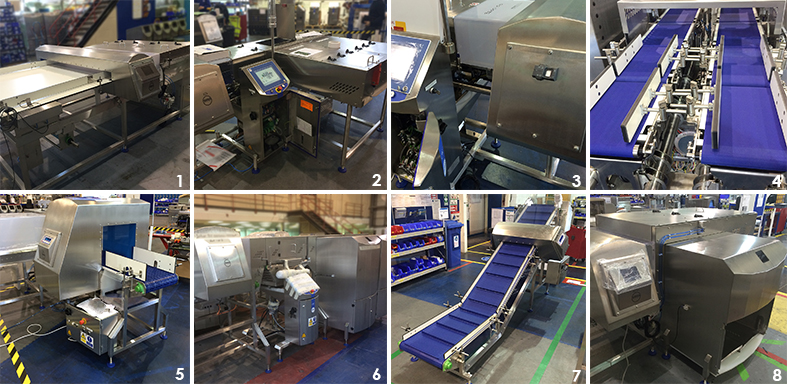 Extra wide metal detector head
Metal detector and CW3 combination system with hatch rejects
Finger print login technology
Dual lane checkweighing system
Large aperture metal detector head
Bespoke metal detection and CW3 combination system with very large reject bins and line height
Incline conveyor for packaged goods
Bulk meat reject bins on metal detector