CW3s Compact & Simplified Dynamic Checkweigher for under 3kg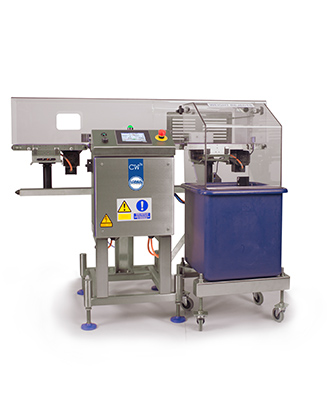 For dynamic Checkweighing of end-of-line packaged goods
Designed to be integrated into the production process to ensure product weight meets legislation, the CW3s compact and simplified design is perfect for packaged and wrapped products under 3 kg.
This is a fixed sized three conveyor system consisting of a 400mm infeed, 400mm PWT, 600mm outfeed with a belt width of 300mm.
The system comes complete with a free-standing wheeled reject bin with cover and includes reject confirmation and bin full sensors.
Working to a Code of Practice (COP)? – All Loma Machines can be spec'd to the latest COP's of your choice from M&S to Sainsbury's. Learn more about the codes of practices and what it means for your business.
The CW3s Checkweigher is the perfect solution for the following product types:
Cake's
Sachets
Convenience Foods
Packs of Meats
Fruit Punets
Snacks