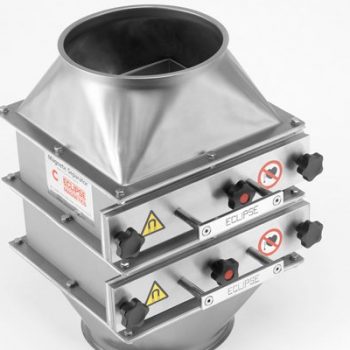 Eclipse Magnets expands into plastics industry with new separator range
UK-based Eclipse Magnetics has launched a range of magnetic separators specifically designed and manufactured for the plastic processing industries.
The company, which is headquartered in Sheffield, says the new range helps remove metal contamination and ensures the purity of a variety of typical plastic processing applications, as well as helping to protect equipment from expensive repairs to blow moulding, injection moulding, extruding and compounding machines.
"We are delighted to introduce our new range of magnetic separators for plastics. As a popular and trusted name associated with magnetic technology, it was a natural step for Eclipse Magnetics to expand into the plastics industry," explained Martyn Cotterill, General Sales Manager for Magnetic Technologies at Eclipse Magnetics.
"Both customer demand and a drive to continue to create innovative magnetic products has contributed to its design and manufacture, and we're already receiving a great amount of interest from plastic processors across the world."
Designed and manufactured in the UK, the range will add to Eclipse's foreign body removal range which caters for the food, pharmaceutical, and recycling industries.
The plastics range will include a variety of sizes, including single or double row magnets, and can be installed in as little as a few minutes. Modifications and additions can be added to the unit upon request depending on the application requirements.
Martyn continued: "As the recycled plastic processing industry continues to grow, the demand for effective magnetic separation has never been greater. It is absolutely crucial to eliminate metal traces as early in the process as possible to reduce the potential for equipment damage, and ensure purity of the product."
by Leanne Taylor
https://www.britishplastics.co.uk/News/eclipse-magnets-expands-into-plastics-industry-with-new-sepa/